Update: They released the unofficial version of the DC Code under a CC-0 License. Josh Tauberer has the backstory.
Copyright exists to incentivize people to create new works. The federal government is not allowed to copyright things, because they don't need the added incentive, and it would be bad if they started charging for access to something like the text of laws that they promulgate. If ignorance of the law is no excuse, the law must be public and knowable.
It's a little bit more muddled at the state level. The District of Columbia claims that they own the copyright to the municipal code of DC. This is insane. Furthermore, as documented by Tom MacWright, DC has sold the exclusive rights to digital copies of the DC code to West (Thomson Reuters), and they cannot legally redistribute an electronic version of the code. This makes all kinds of democracy-enhancing activities impossible. In fact, even the physical copies of the DC Code bear the notices "Copyright 2001 by The District of Columbia" and "All Rights Reserved."
Rogue archivist Carl Malamud thought that this was not only stupid, but also illegal. So, he bought all 23 volumes of the DC code for $803.00, scanned them, and posted them on the web. I agreed with Carl, so I downloaded his copies, printed one of the volumes, and took a picture inviting Thomson Reuters or the DC Council to sue me too.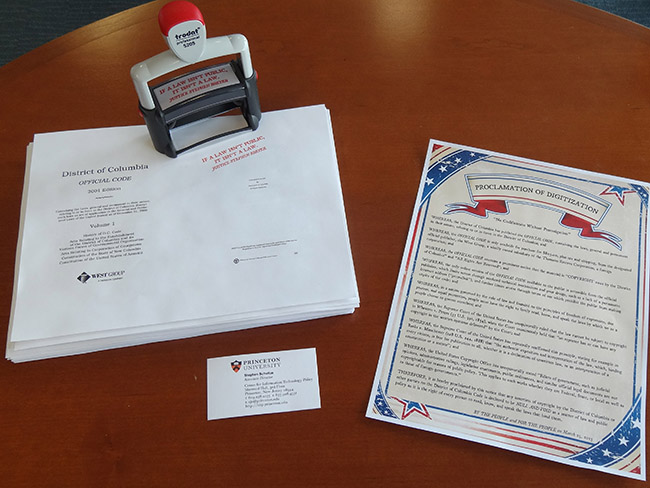 Sadly, it appears that neither Carl nor I will have the pleasure of being sued for speaking the law. Today, the Washington Times asked Vladlen David Zvenyach, who oversees DC codification, about Carl's activities. Zvenyach said "I have no intention of going after him." That's unfortunate, because such a case would afford the opportunity to challenge this ridiculous practice. Mr. Zvenyach claims that the copyright notice exists because:
"At one point, the publishers threatened states over the ownership of their own code. If Lexis is the one doing it and the state goes around and alters it, they could be sued by the publishers. Our copyright is intended to protect us against them, not protect them against the public."
Ok Vladlen. Why don't you put your money where your mouth is and put a CC-0 license on your physical and electronic copies of the DC Code? Apparently you recently negotiated a license with Lexis. If you can't manage to openly license the law, you might find yourself discussing it in the context of a petition for declaratory judgment.